Mediket Versi
Cleansing gel for scalp and overall body care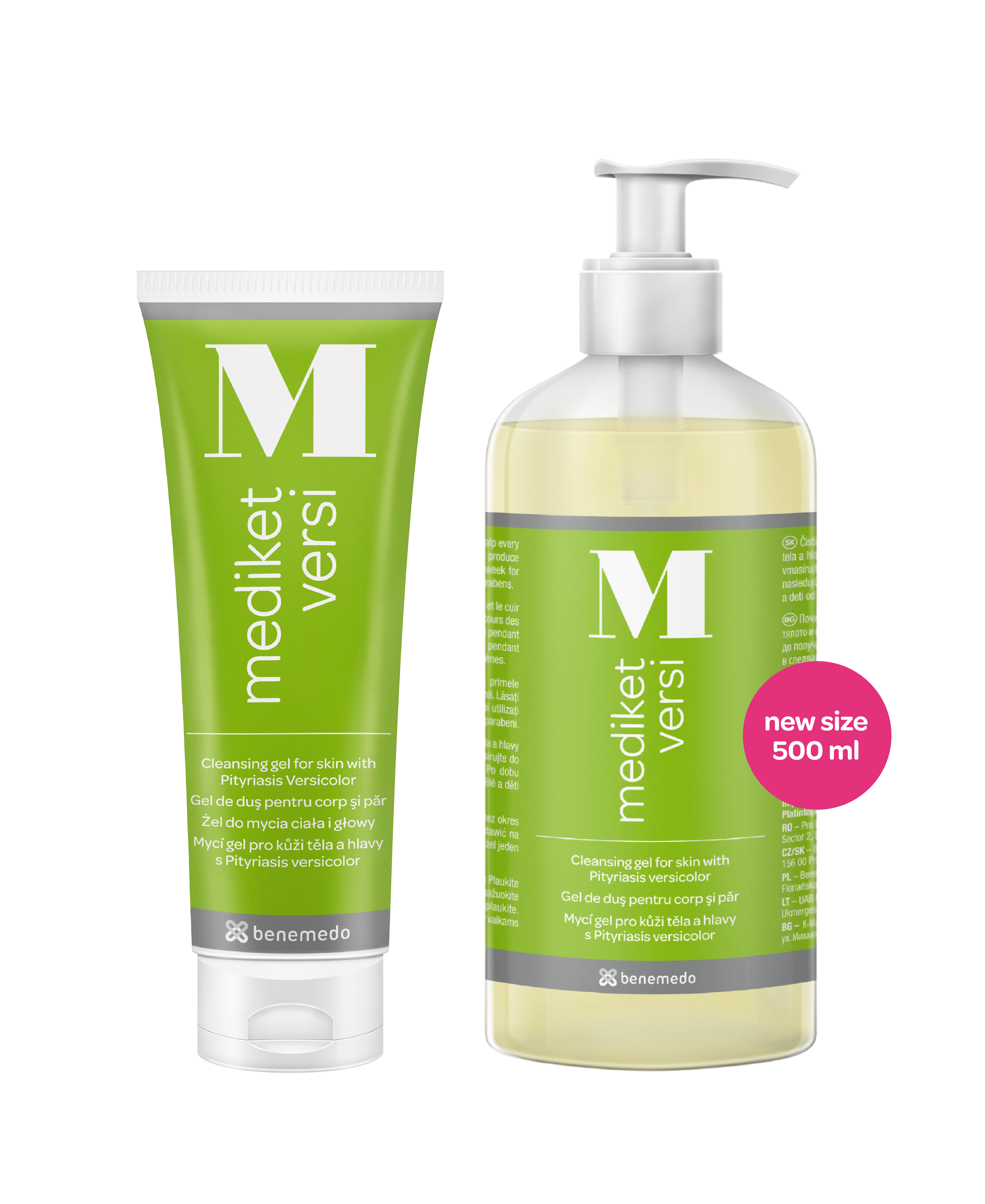 Mediket Versi dermatological cleansing gel is intended for scalp and overall body care. It helps reduce skin problems caused particularly by yeast. It includes particularly Pityriasis versicolor (Tinea versicolor) and seborrhoea (seborrhoeic dermatitis), not only on the face. For children older than 10 years of age and adults.
Use guidelines
Apply Mediket Versi cleansing gel on the skin and scalp every day during the initial 2 weeks and every other day over the following 2 weeks. Carefully massage the gel into the skin to produce a soft lather. Leave on for 3-5 minutes and then rinse off thoroughly. During the subsequent 4 weeks, apply Mediket Versi once a week. The product is intended for adults and children from 10 years of age. Does not contain parabens.
Active ingredients
Octopirox and Ichthyol Pale.
Ingredients
Aqua, Sodium Laureth Sulfate, Sodium Chloride, Cocamidopropyl Betaine, Cocamide DEA, Glycol Distearate, Cocamide MEA, Laureth-10, Piroctone Olamine, Glycerin, Parfum, Citric Acid monohydrate, Methylchloroisothiazolinone, Methylisothiazolinone, Benzyl Alcohol, Sodium Shale Oil Sulfonate (Ichthyol Pale).
Package
120 ml, 200 ml, 500 ml.
Who can use it
Mediket Versi can be used in case of seborrhoea (if it occurs on scalp, we recommend using Mediket Ictamo) and presence of yeast-like microorganisms.
Before using our products on infants or small children, we recommend that you contact your local medical professional and show him our ingredients list.
How it works
The Mediket Versi cleansing gel formula contains octopirox and ichthyol pale which together with other substances provide a delicate care of the skin and eliminate the causal agent of pityriasis versicolor (tinea versicolor). These substances also prevent skin itching caused by other skin problems, such as during seborrhoea or atopia. Octopirox reduces increased formation of yeast and bacteria which, in larger amount, may cause occurrence of shedding deposits on the skin and other problems. Yeast (Malassezia furfur or Pytirosporum ovale) also cause dark or light blemishes on the skin during tinea (pityriasis). Ichthyol pale, sometimes also referred to as ichthammol, is a substance of natural origin known for decades for its wide-spectrum effects. It has antimycotic, antiflogistic, keratoplastic, anti-itch effects, it reduces sebum production and is not photosensitive.
Mediket Versi lightens dark blemishes. If the gel is used regularly, the light blemishes will disappear after sunbathing. In contrast to universal dermatological cleansing gels, Mediket Versi generates less lather and, consequently, causes no unnecessary skin irritation but rather soothes the skin. The product has been dermatologically tested.
Important notice:
In case of suspected dermatological disease, we recommend consulting a dermatologist. The same applies if the spots on the skin do not disappear.
Sign up for our
newsletter.


Be the first to receive news about our products and services.