Mediket Ictamo
Shampoo for severe scalp problems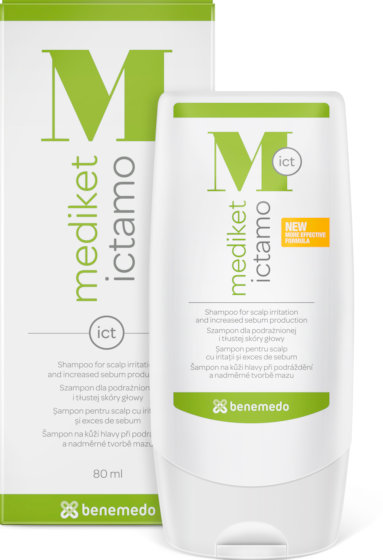 Mediket Ictamo dermatological shampoo contributes to solving the manifestations of seborrhoea (seborrhoeic dermatitis) in hairs, problems with sores in head, scalp itching. It can also be used for scalp management at atopy. This shampoo is a suitable substitute for coal tar shampoos.
Developed in collaboration with dematologists.
Use guidelines
Apply a reasonable amount of Mediket Ictamo shampoo on wet hair and massage into the scalp to produce lather. Leave it on for 3-5 minutes and then rinse off thoroughly. Use 2–3 times a week for a period of 4–6 weeks. Subsequently use Mediket Ictamo once a week.
Active ingredients
Ichthyol Pale & Octopirox.
Ingredients
Aqua, Sodium Coco Sulfate, Cocamidopropyl Betaine, Propylene Glycol, Decyl Glucoside, Cocoyl Methyl Gl., Sodium Shale Oil Sulfonate (Ichthyol Pale), Sodium Lauroyl Sarcosinate, Glycerin, Polyglyceryl-3 Caprate, Sodium Cocoyl Glycinate, Phenoxyethanol, Ethylhexylglycerin, Citric Acid, Piroctone Olamine, Panthenol, Sodium Benzoate, Guar Hydroxypropyltrimonium Chloride, PCA Glyceryl Oleate, Parfum, Caffeine, Nicinamide, Tetrasodium Glutamate Diacetate, Benzyl Salicylate, Geraniol, Citronellol.
Package
80 ml, 100 ml.
Who can use it
Choose Mediket Ictamo shampoo if you suffer from seborrhoea accompanied by increased sebum production in hair and dandruff. The scalp usually itches unpleasantly and sores and scabs may develop on the scalp. The product contributes to decreasing the formation of grease and reduces increased skin desquamation in the form of scabs which may compound to form plaques or larger yellow crusts. It efficiently fights dandruff accompanied by excessive sebum formation (greasy dandruff). It calms down scalp at atopy as well.
Before using our products on infants or small children, we recommend that you contact your local medical professional and show him our ingredients list.
How it works
The Mediket Ictamo shampoo formula contains ichthyol pale and octopirox. These are active substances which have an antibacterial and antifungal effect and re-balance the skin by reducing the sebum production to a normal level. In addition, ichthyol pale has also anti-inflammatory effect. The product soothes an irritated scalp, contains no dyes, parabens or perfumes.
Sign up for our
newsletter.


Be the first to receive news about our products and services.