Mediket Prevent
Shampoo for mild forms of dandruff and prevention of dandruff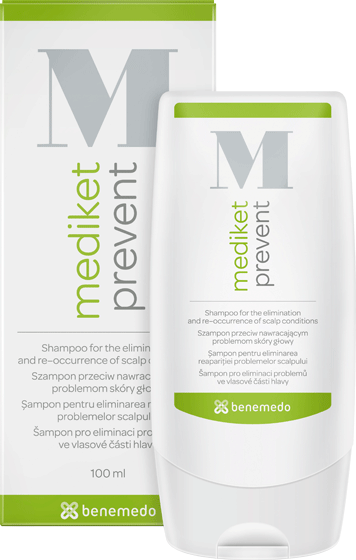 Mediket Prevent dermatological shampoo helps remove dandruff and prevents its reoccurrence. It affects particularly the formation of so-called dry dandruff (not accompanied by increased sebum production) but it is also effective against greasy dandruff which, by contrast, is accompanied by higher sebum formation. Its efficient composition also brings long-sought relief from scalp itching. After the use of Mediket Prevent, your hair will be healthy, beautiful and dandruff-free.
Developed in collaboration with dematologists.
Use guidelines
Apply a reasonable amount of Mediket Prevent shampoo on wet hair and massage into the scalp to produce lather. Leave on for 3–4 minutes, then rinse off thoroughly. Use Mediket Prevent shampoo as necessary 2–3 times a week.
Active ingredients
Octopirox.
Ingredients
Aqua, Sodium Laureth Sulfate, Cocamidopropyl Betain, Cocamide DEA, Polyquaternium-7,Piroctone Olamine (Octopirox), Propylene Glycol, Sodium Laureth Sulfate (and) Glycol Distearate (and) Cocamide MEA (and) Laureth 10, Sodium Chloride, Polysorbate-20 (and) Linoleic Acid, Parfum, Benzyl Alcohol (and) Methylchloroisothiasolinone (and) Methylisothiasolinone, Lactic Acid.
Package
100 ml.
Who can use it
Choose Mediket Prevent anti-dandruff shampoo if dandruff has formed in a small amount only, or if it has tendency to stick to the rootlets (exceptionally in the hair) and you suffer from dandruff seasonally (for example in the colder months of the year). We recommend using this product also to prevent dandruff from creating or recurring.
Before using our products on infants or small children, we recommend that you contact your local medical professional and show him our ingredients list.
How it works
Octopirox is the active substance in the formula. This substance helps prevent the occurence of dandruff, it contributes to yeast and bacteria regulation to optimum values and soothes an irritated scalp. Mediket Prevent shampoo has a pleasant consistency, contains no parabens or dyes and has been dermatologically tested.
Sign up for our
newsletter.


Be the first to receive news about our products and services.